Ever been told the sky is the limit? Well, not anymore. It's time to elevate your criminal empire, taking your assets and your profits in the only direction left to go: straight up. Welcome to GTA Online: Smuggler's Run.
Customizable Hangar properties are the center for your new smuggling ring, complete with a complimentary Cuban 800, optional living quarters, aircraft custom workshop, office, show floor and aircraft storage. Stock it with a fleet of lovingly personalized aircraft, take to the skies, and don't come down until every cubic foot of Los Santos airspace has been brought under the control of a tax-exempt Air-Freight Business stretching from sea to shining sea.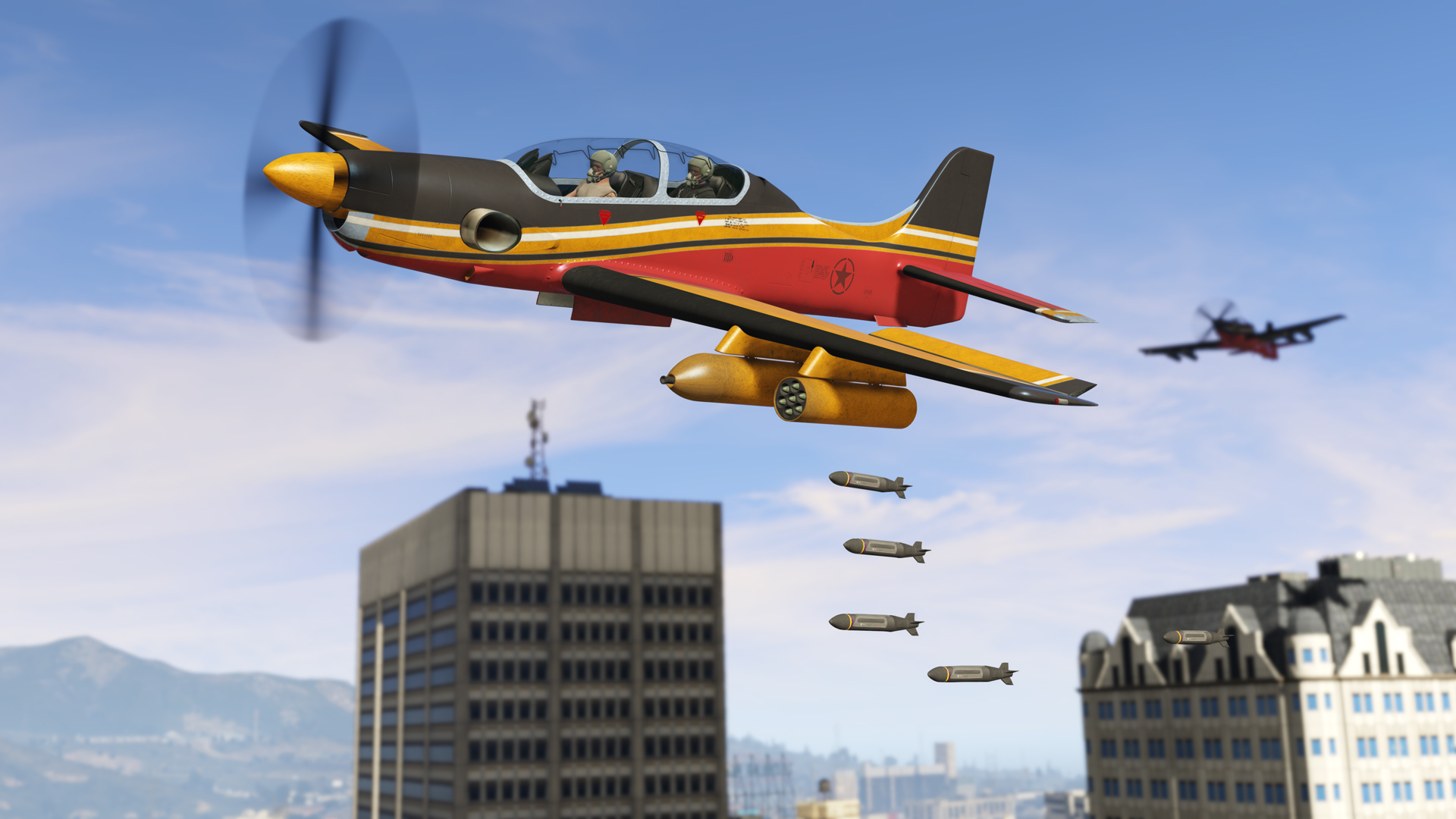 The smuggling business is full of opportunities for proactive CEOs, MC Presidents and VIPs and a brand new Hangar is just the starting point you need. So, get yourself logged into the Free Trade Shipping Co app with the help of Nervous Ron, acquire the cargo – from high demand narcotics to fine jewelry – and make the sale to eager buyers awaiting your air-dropped delivery.
SEVEN NEW AIRCRAFT
The skies above Los Santos are about to get a lot more interesting. Everything from vintage dogfighters to miniature choppers to cold war bombers are now in stock (and available at a special trade price for committed smugglers). These magnificent flying machines can be stored in your private Hangar, and customized using a range of options including engine and handling upgrades, countermeasures, liveries, weapons, bombs and more with the investment in an Aircraft Workshop. You can even drop off any aircraft in your Pegasus inventory and display (or store) them in your Hangar, allowing you to call them up as your own Personal Vehicle from the Player Interaction menu. Here's a look at all the new inventory available now at Elitás Travel and Warstock Cache & Carry:
Buckingham Alpha-Z1 – A speedster's dream and a smuggler's preferred getaway racer. Engine: four cylinder, fixed pitch. Wing area: 66 square feet. Top Speed: routinely fatal. Available from Elitás Travel.
LF-22 Starling - One moment you're on the runway, slowly inching into position, wondering what all the fuss is about. The next, you're 220 feet in the air and rising, a shrieking human speck on the front end of a blazing rocket trail headed straight for the stratosphere. The LF-22 Starling packs mounted rockets, optional homing missiles and bombs for extra punch. Available from Warstock Cache & Carry.
Mammoth Tula - Remember the kid who always had a multi-tool with him? Remember how popular he was? Well, if he had survived high school, there's only one set of keys he would have in his fanny pack: the Tula is a quad-prop monster with VTOL and water-landing capabilities, space for turrets and a bomb bay, and the capacity for JATO upgrades. Be prepared. Available from Warstock Cache & Carry.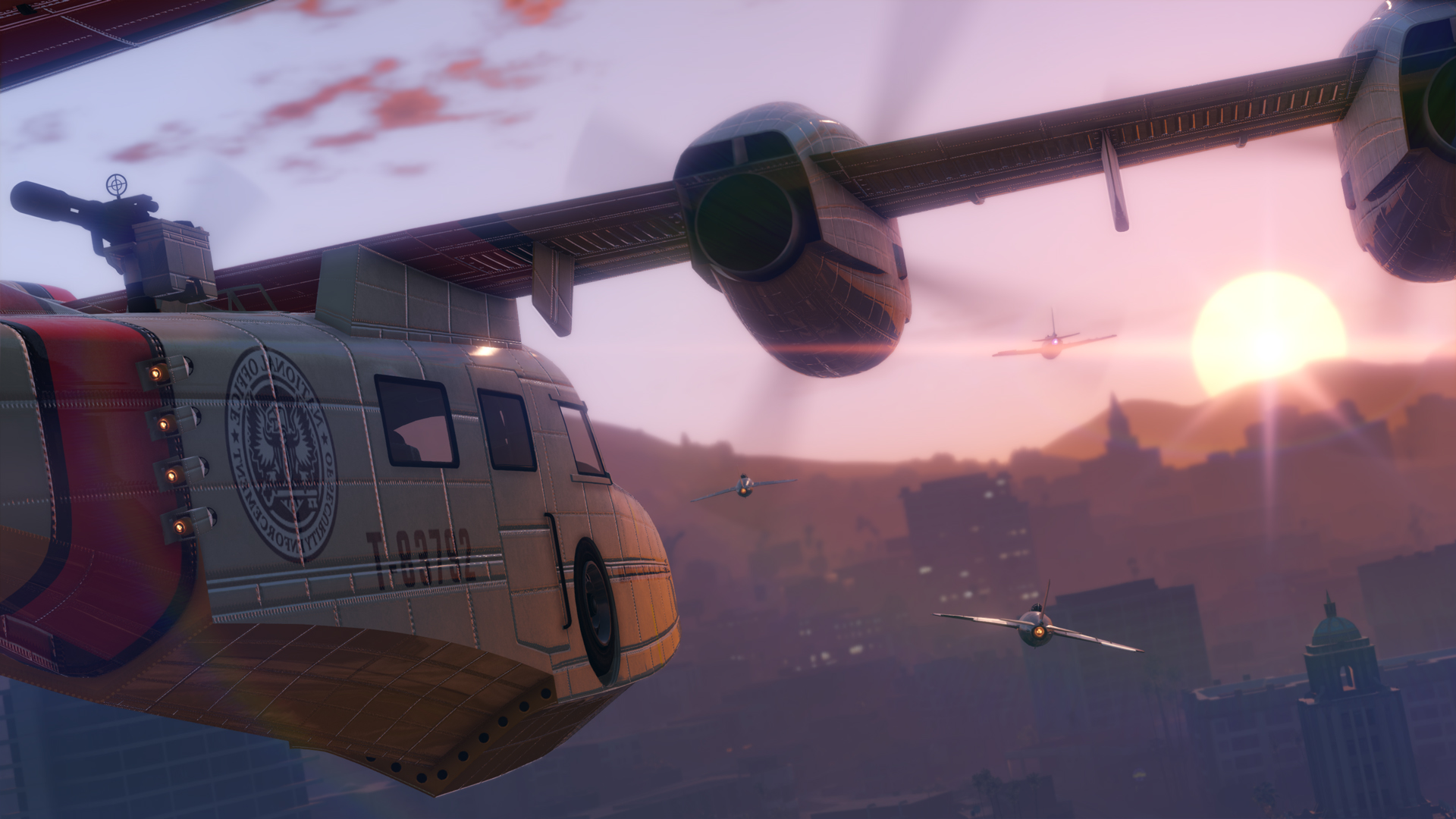 Nagasaki Havok - In the world of tactical air support, bigger is better, right? Wrong. Incredibly small and highly maneuverable, if the Havok was any smaller you'd have to stay on the ground and use a phone app to fly it. Throw the option for a machine-gun upgrade and decoy flares, and you're going into any negotiations with a serious edge. Available from Elitás Travel.
Nagasaki Ultralight - What red-blooded American hasn't gazed at an eagle as it soars through an empty sky, refined by millions of years of evolution into the epitome of aerial dexterity and lethal precision and wondered: what could be more dignified, more transcendent? Well, now you know. Available from Elitás Travel.
V-65 Molotok – The poster child for brutalist military chic, the V-65 Molotok has been reproduced in juntas and dictatorships right across the developing world, and that's not just because of the lethal efficiency of its twin nose-mounted machine guns. It's because when you look this merciless, the battle's won before you've even taken off. Available from Warstock Cache & Carry.
Western Rogue - To the casual observer, the Rogue looks like a classic, single-prop training aircraft. And that's exactly what you want them to think. Because with room for machine guns, missiles, anti-intercept countermeasures and a full-size bomb bay, you'll have those casual observers running for any available cover. Available from Warstock Cache & Carry.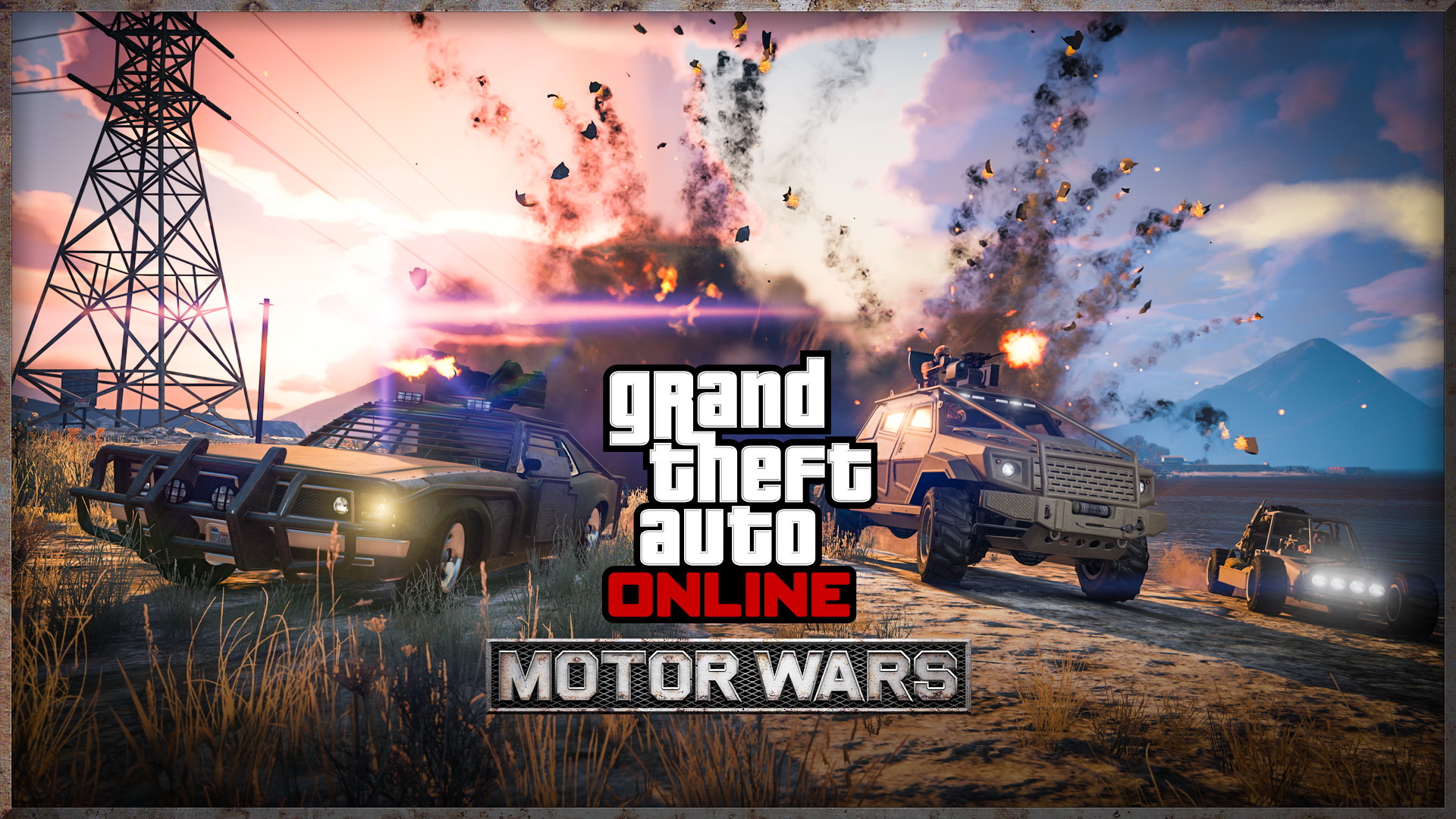 NEW ADVERSARY MODE: MOTOR WARS
Blending the adrenaline rush of Drop Zone with the claustrophobic tension of a match of Penned In, this brutal Adversary Mode is a deadly scavenger hunt where second place is not an option. Up to four teams parachute into a periodically shrinking kill box strewn with a lethal assortment of guns, explosives and Weaponized Vehicles. Work together, find a vehicle, and fight opposing teams and the shrinking map to survive and win.
NEW CARS: VAPID RETINUE AND GROTTI VISIONE
Your head may be in the clouds, but that doesn't mean you've forgotten the smell of burning rubber. Whether it's the seductive panache of the Vapid Retinue or the ozone-burning brilliance of the Grotti Visione, there's something new in town to remind you that no matter how many air miles you rack up, nothing can replace the open road.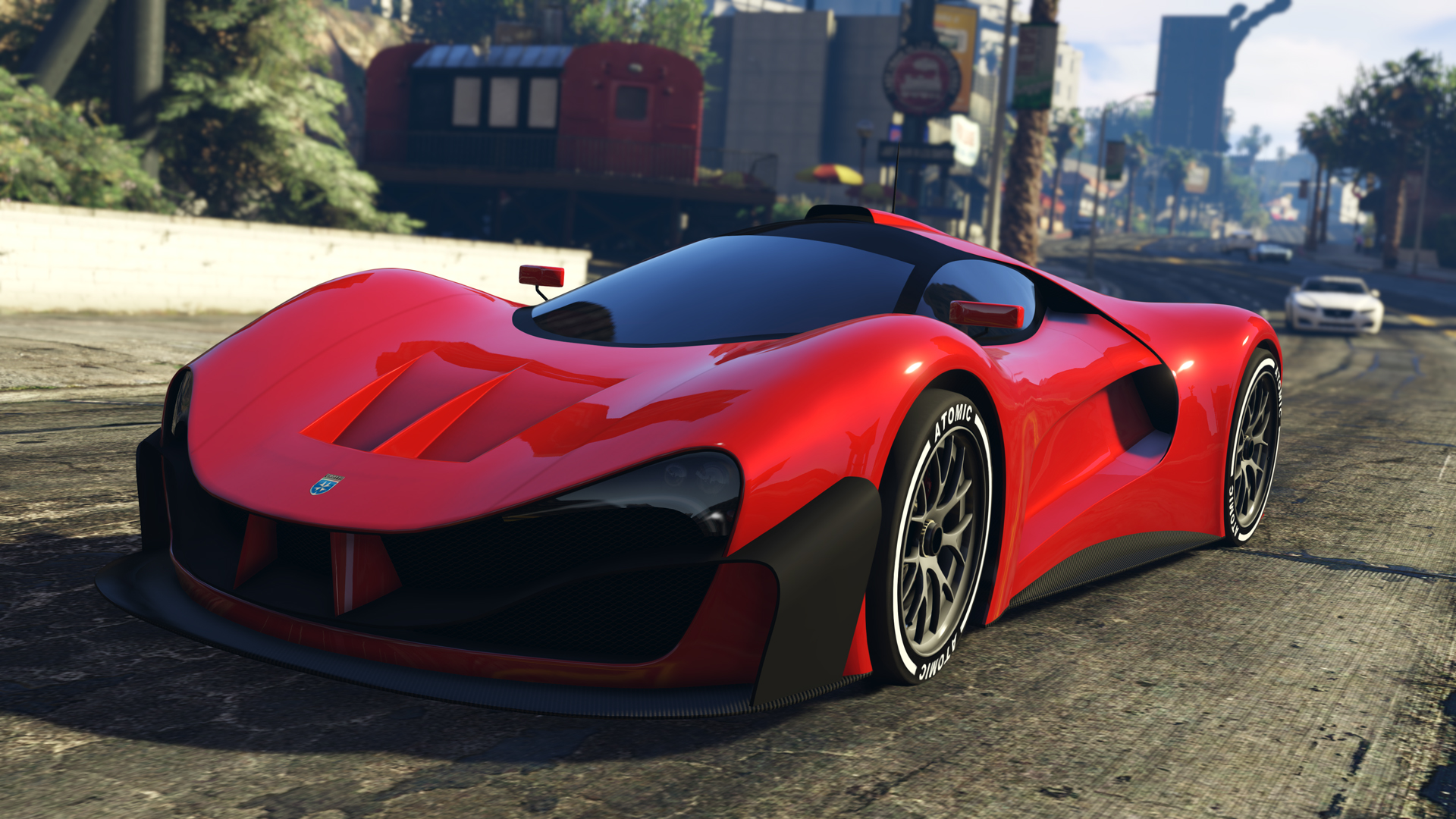 NEW APPAREL
In this brave new world of low-duty high-profit trade you have to look the part - and no self-respecting smuggler would be seen dead or alive this season without the latest clothes and tattoos. So whether you're an urban pirate, a fighter ace, or you just need some thermal and night-vision headgear for your next cargo sale, there's something new in town for you.
Check out the full story here: http://www.rockstargames.com/GTAOnline/news/article/60260/GTA-Online-Smuggler-s-Run-Now-Available