New Heist!
As of December 12th, the explosive new Doomsday Heist is available for play direct from Rockstar. In this latest installment, work with Billionaire Avon Hertz to put a stop to a potentially apocalyptic disaster; and make some cash in the process. In addition to this action packed new heist, Rockstar is offering a $1,000,000 GTA$ Reward to five lucky participants in their Doomsday Heist Snapmatic contest. Submit your exciting snapshots of your Doomsday Heist exploits with the hashtag #DOOMSDAY for a shot at the big prize. Additionally, take advantage of Double GTA$ Salary for Bodyguards and Associates until December 18th.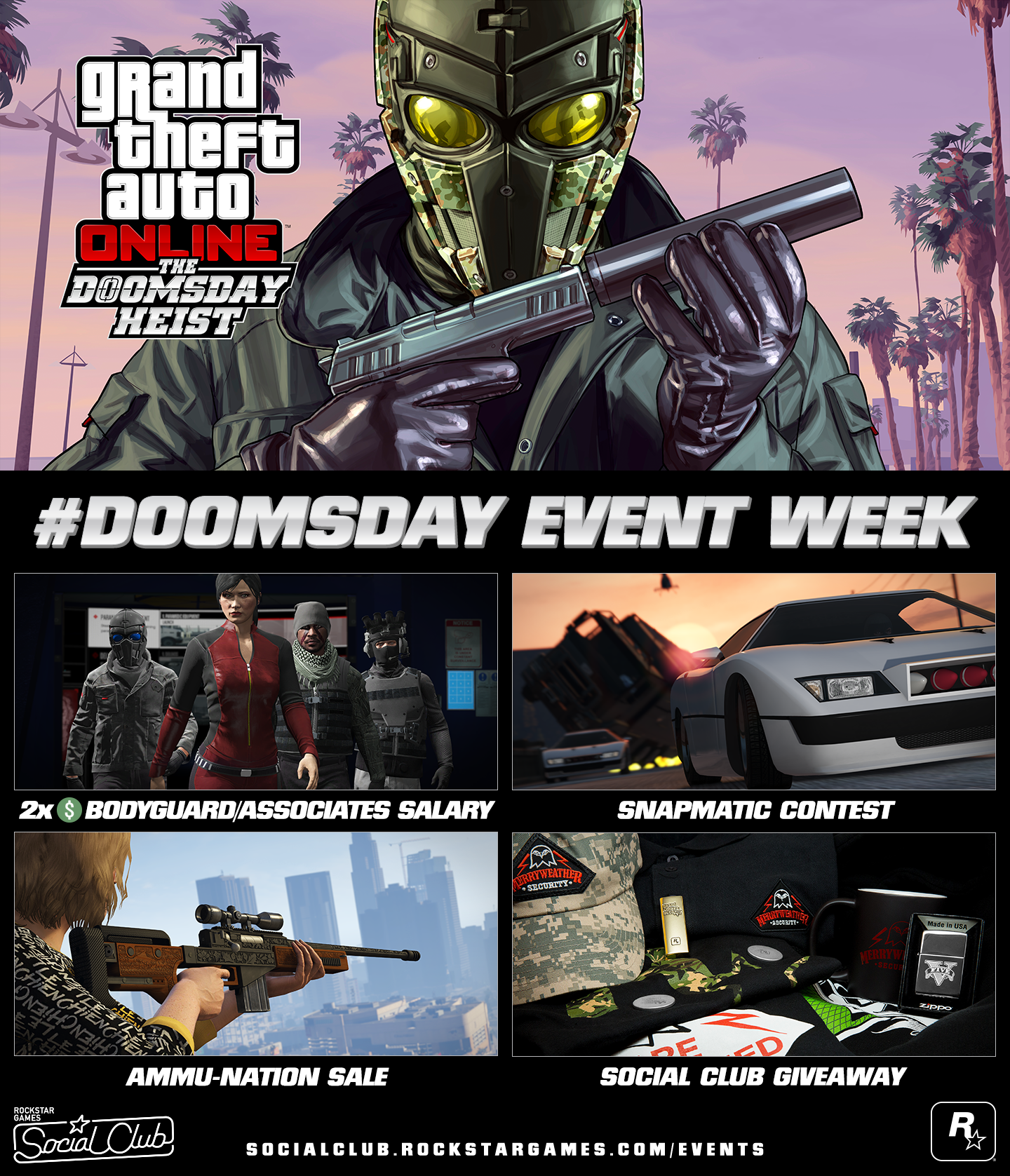 Ammu-Nation Sale
Through December 18th, enjoy a 25% Discount on all of the following:
SMGs
Sniper Rifles
Shotguns
Body Armor
Pistols
Machine Guns
Luxury Finishes
Explosives and Throwables
Doomsday Social Club Sweepstakes
From now until December 18th, five lucky individuals have a shot and scoring some awesome merchandise, including the Camo Merryweather Security Hat, Black Merryweather Tee, Merryweather Polo, GTAV Hoodie, Black Rockstar Camo Tee, Merryweather Heat Changing Mug, GTAV Gold Bar USB, GTAV Power Magnet and GTAV Chrome Zippo. Apply for the sweepstakes online at the Social Club Events Page.
Time Trial and Premium Race Schedule
Time Trial: "Up Chilidad"
Premium Stunt Race: "East Coast" (Locked to Super)
All Discounts, Sweepstakes, Prizes and Bonuses valid until December 18th.