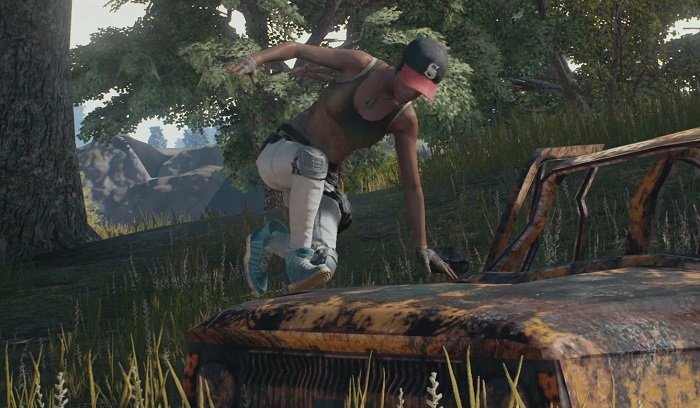 Players,
We're excited to share that we will be running the test servers for PC 1.0 for the first time next week! We would like to invite our players to test vaulting & climbing and other existing features and systems we have modified. The test servers will be up for several days to allow everyone to try out the test build and give feedback.
Key changes:
Client and server optimization
Added vaulting & climbing
Changes in vehicle driving
Ballistics overhaul


We have made changes to some mechanics to make them more realistic and balanced. However, all changes are not final and we need your feedback after testing. In addition, this is only the first test build so there will be issues and bugs that have not been fixed yet. But we would like to assure you that we will do our best to address most of those issues when we release 1.0 unless there is a critical roadblock.
Patch notes will be posted early next week but we wanted to explain a little bit about vaulting & climbing today. Action & Gunplay Lead Pawel Smolewski has written a piece about the feature.
Vaulting & Climbing
Crossing and scaling obstacles may intermittently create many new tactical options available to the players. The standard jump feature can be used in standard situations, but there are many areas where it does not suffice. After all, PUBG features a play area of considerable proportions. In addition, objects located on the map differ greatly in shape and size. Such complexity can cause many problems for the players who need to rely on fast and effective means of jumping over (or on top of) boxes, containers, fences etc. For that reason we have decided to implement dynamic vaulting and climbing mechanics.
This feature enables in-game characters to quickly scale obstacles in front of them. Although we initially planned to allow crossing over structures which are up to 1 meter high, we have eventually decided to extend the functionality of the feature by increasing the limit to about 2.3 meters. Almost any static object that meets the dimension criteria can be scaled. Additionally, passing through openings in structures (such as windows) is possible as long as they are wide and tall enough. You may scale almost any static object which is short enough. Objects which are chest level high can be scaled with a weapon in hand. Taller structures that require pulling up to vault need to be performed with both hands free of any items (they will be holstered automatically when animation is played). Running towards the obstacle will generate momentum that will ensure faster motion. Performing the action from stationary position is also possible but the animation played will be slower, leaving players vulnerable for a longer period of time.
On the technical side the system consists of about 40 animations adjusted for different heights and situations. We internally use the term vaulting to describe the action that involves crossing over an obstacle while climbing refers to a motion that will cause the character to remain on top of it. By default control over vaulting and climbing is placed on the same key as jump and is context based. However, we do provide the players with a possibility of splitting the jump and vaulting actions to separate key-bindings in the controls section of in-game settings. When attempting to vault, the geometry of the objects in front of the character is scanned and an algorithm decides whether vaulting action can be performed and what type of animation can be used to get across or on top of it. Climbing will be preferred whenever there is enough space for the character to stand up. However, vaulting can be enforced by holding sprint button while moving – if the obstacle is thin enough, character will slide or cross over. Motion that involves pulling up can be cancelled before reaching the apex by starting to move in the opposite direction.
Due to the nature of this system, we expect possible issues, bugs and problems to occur. Ironing out this feature may take some more time, but we do hope you will have a lot of fun with it and make great use of it. We are eagerly awaiting your feedback and reports.
In the next few days, we will also touch on other important changes. Please stay tuned for more updates on the test server.
Regarding the use of cheats, we will be doing everything we can and use all resources available to detect and impose penalties on users who use cheats. Recently, we have implemented new measures to better identify and track their usage. We have designed reliable systems to do this more efficiently than before.
For a very long time, our development team has been analyzing data from a large pool of users who show abnormal gameplay behavior to build a system that helps us positively identify cheaters. We are now able to use the system to identify and ban these users more proactively. Using this system, we have already identified and banned about 20K additional users in only one day.
This is only a start. On top of BattlEye, we will use a monitoring system to strengthen our efforts to prevent use of cheats and impose penalties on them. We promise you that we will continue to do our best to quickly find and ban people who use cheats. We hope you will start to see an improvement going forward.
Thank you.
The PUBG Development and Community Team